How does digital internal communication help improve employee experience?
Retaining a skilled workforce is one of the crucial challenges for companies. Setting up a positive working environment has risen to the top of the list for company executives and HR experts, aiming to ensure employees feel appreciated and valued. The two main ingredients that definitely help in this are: employee experience and engagement.
Employee experience and internal communication
Employee experience encompasses the blend of perceptions an employee gains from their observations, emotions, and actions during their tenure within a company. It is influenced by a wide array of different factors, such as experiences with management, co-workers, internal protocols, and workspaces. Improved employee satisfaction leads not only to fewer resignations, but research shows that workplaces with a better employee experience have higher levels of engagement, greater levels of growth, and higher customer satisfaction.
Internal communication became the cornerstone of enhancing the employee experience in the era of Remote and Hybrid Work. Beyond merely facilitating effective workflows, the establishment of apt internal communication channels holds the power to elevate employee engagement and satisfaction. Embracing digital communication is an evident strategy, leveraging instantaneous messaging, quantifiable metrics, and the ubiquity of smartphones. However, success hinges not just on the efficacy of the channel, but also on the customization of content to cater to the unique needs of the workforce.
Personalisation – customised employee experience
For effective internal communication that really connects, it's crucial to speak the language of your recipients and address topics that matter to them. A particular message may not be relevant to everyone, but that doesn't mean it's not worth communicating. If you're familiar with your employees' needs and interests, you can easily come up with themes and subjects that resonate and then communicate those to specific groups. Personalization, i.e. tailoring messages, offers, or even entire user interfaces aren't just common these days – they're expected. Employees want quick and timely information, so they appreciate relevant, tailored, and to-the-point messages without having to wade through blabber. Making internal company communication meet these needs is absolutely doable by using data and demographics.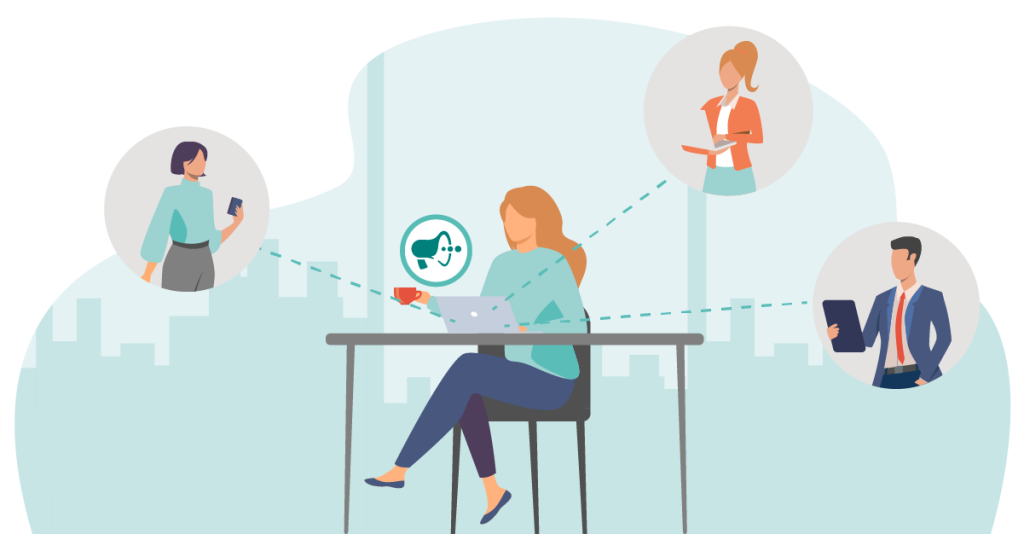 How can employee demographics help?
Marketers and communications professionals love to use demographics to chart and comprehend people's needs and actions. Details like age, gender, and job field can be leveraged to slice the population into distinct segments. The beauty of dealing with a company is that this invaluable data is already at our fingertips, unlike surveys that often require separate data collection. By collaborating with the HR department, we can tap into demographic insights to set up employee clusters. Targeting different groups allows us to fine-tune communication initiatives for each group's preferences.
When designing your internal communications plan, keep in mind the information needs of employees and the key working conditions. For example, location: the salesperson who is always on the road, the home office worker and the mobile office worker are part of the information flow of the head office at a completely different level. You also need to think about the tools available and their competences. A multi-platform solution like CHEQ ensures that information reaches all colleagues, whether they use a smartphone, tablet or desktop computer. So we can improve the employee experience of more than just individual colleagues.
Targeted messages and pulse surveys – made easier with CHEQ
Beyond the content and channel choices, an equally vital aspect is finding the right rhythm and frequency. If your communication efforts are infrequent and irregular, it is difficult to generate any significant positive impact. On the other hand bombarding employees with messages too often risks oversaturation – essential messages can easily get lost in the noise. Consider your email inbox: how many of those emails are truly important and actually get opened? Surveys reveal that nearly half of all emails wind up in the junk folder.
In the midst of constant information overload, we are forced to be selective. For employers, opting for a less cluttered channel, like a dedicated app or chat platform, can be a smart move. That's where the CHEQ internal communication solution comes in, available on Viber, Teams, and native apps. With targeted messages to segmented employee groups, you can save employees from having to sort through a long list of messages and make sure that relevant information reaches the people for whom it is really relevant. CHEQ boasts an impressive read rate of up to 80% within just a few hours, and real-time tracking allows you to identify who hasn't yet seen the message.
Running short and targeted surveys will help you to monitor the success of the communication efforts and the development of the employee experience. The pulse survey feature enables you to swiftly and easily send out concise questionnaires. The surveys can be filled out in a matter of minutes, which promotes two-way communication that empowers employees to voice opinions and share ideas. Satisfaction grows as employees sense their opinions matter, and tangible company improvements can result from taking their suggestions. To elevate the employee experience, tap into the power of effective internal communication. Request a free demo!